The Top 30 Benefits and Perks of being a Flight Attendant
See why the Flight Attendant position is the most sought after job in the aviation industry!
1. Get Paid to Travel the World
This is the #1 best possible career for people who want to travel.
While other's are rarely going more than a few miles from home during their careers, you'll be jet setting across the world.
2. Spend Your Days off Flying for Free
Visit distant family, friends or go to any other destination you're in the mood for.
Fly south to escape the winter weather or north to cool off from the sweltering heat.
Fly to where the party is or go somewhere remote to relax.
3. Your Family and Friends Can Fly for Free too
Hop on an airplane with your family and friends and travel free to exotic vacation spots.
Share your benefits for the best of times.
4. Earn a Very Respectable Salary
It's above the national average. Although it takes some time and experience you can achieve 6 figure earnings.
5. Big Generous Package of Employee Benefits
Medical, dental, life insurance, 401(K) retirement plan, long-term disability coverage, paid vacations and holidays.
6. Your work schedule is flexible
You can choose your own work schedule based on your own needs and you can have hours or days between flights to travel and see local attractions in faraway places.
7. Pickup Extra Flights
Whenever you like, to increase your pay.
8. Trade Trips or Schedules
Trading shifts between fellow crew members is allowed by most airlines.
9. You'll Earn Extra Pay
You automatically get extra compensation for your meal costs.
10. Performance Based Bonuses
Career advancement opportunities and employee assistance programs are available.
11. Stock Options and Profit Sharing
These are offered by some of the airlines.
12. Great Travel Discounts
For hotels, car rentals, cruises and other hospitality services.
13. Paid Hotel Visits
Airlines cover the cost of your hotel room while traveling for work.
You can take a shift flying to a city you want to visit, stay in a hotel to visit the city, then take a shift on a flight back.
14. Experience Different Cities
Explore the best architecture modern society has to offer.
Interact with different cultures and get acquainted with their art, music, literature, philosophy and traditions.
15. Rewarding Professional Working Relationships
Working with other fascinating Flight Attendants and Great Pilots often leads to lifetime friendships.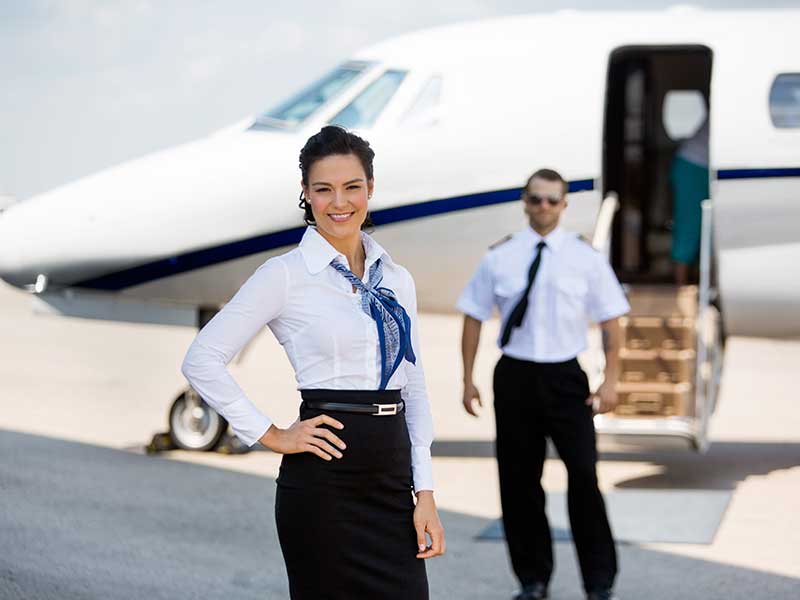 16. Never Go Back to that Old 9 to 5
With an ever-changing work environment that never gets boring, each day traveling is fresh and enjoyable.
You'll be so thankful for this career.
17. You DON'T Need a College Degree
Just get some basic aviation training to get you hired.
18. Meet New & Interesting People
Each day from around the globe, you'll engage with all kinds of different people. Your days are so interesting, educating and rewarding.
19. Highly Respected & Admired Career
Something you can be proud of. People look up to you.
20. There is NO Retirement Age
You can keep this career and all the benefits as long as you like.
21. The Glamorous Aspects of this Career are Very Real
Interact and rub noses with celebrities, politicians, athletes and influencers of the world.
You'll be afforded opportunities others will never have.
Not to mention, you can simply bypass the long security lines at the airports.
22. The Professional Uniform
Truly a status symbol that commands respect and it's provided by the airline for you.
You'll feel like a celebrity as you walk through the public places.
23. Live Where You Want
It's not like a regular job where you can only drive to work.
You travel at Jet speed by air, so for example you could live in the northeast but work out of an airport in the South.
24. Your Office is as High in the Sky as it Gets
You're way above that corner office at the top of the high-rise that so many people dream of.
You're flying in a $100 million aircraft provided by a multi- billion dollar airline.
25. Your Role Puts You in a Position of Authority
As the airline spokesperson and passenger guide, countless travelers look up to you each day to help them.
26. You are the Face of the Airline
You are a winner. The airline relies on you to represent them.
You are the host and the airplane is your temporary home and passengers are guests in your home.
27. An Exciting Lifestyle
Most people could never imagine it.
They are simply trapped in their little world going to the same mundane places, day after day, year after year.
But not you!
Ask a Flight Attendant if they like their job, they'll say "I love it".
28.The Best " Bragging Rights"
With your career travels and worldly experiences, you'll have the best stories to tell.
Mystery surrounds the beauty and allusiveness of the this career which make it so appealing and attractive to so many.
29. Traveling the World "Bucket List"
While most people will still be dreaming of their bucket list of places to visit, you will have fulfilled your traveling dreams and aspirations.
30. The Ride of Your Life
You'll be the envy of all your family & friends.
You are a "Jet Setter" which the dictionary defines as, "someone in high society with a glamorous life."
So... What are you waiting for?
Pack your bags and Let's GO!
The Flight Attendant Academy, where "Your Dream is Our Mission!"